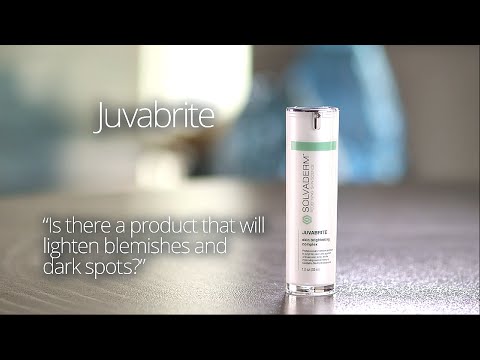 Revolutionizing
Cosmetic Dermatology
Discover Solvaderm's Professional Strength Products For Healthier And More Beautiful Skin.
About the product
Solvaderm Juvabrite is a skin-brightening product that effectively and rapidly lightens hyper-pigmented marks on your skin using only the finest naturally derived ingredients proven to have skin lightening properties. The formula is also created to deliver a significant amount of moisture to pump and plump your skin.
Usage
Juvabrite is intended for daytime and nighttime application. This product may be used on the face either as a full face serum or, as a spot corrector. Use on hyper-pigmented areas only if your goal is to even out your skin tone. Use all over face if you desire to brighten your overall skin tone. Always use sunscreen during the day to enhance and speed up the skin lightening effects of Juvabrite.
Ingredients
Seaweed Extract: Loaded with vitamins and minerals, it replenishes nutrients that your skin requires to turnover your skin faster. This ingredient also gives it a moisture boost that significantly improves the dewiness, softness, and smoothness of your skin.
Hyaluronic Acid: This ingredient is widely known to be a moisture magnet. It helps your skin retain more moisture locked in.
Saxifraga Sarmentosa Extract: This ingredient delivers multiple functions that help revitalize your skin's complexion with its antiseptic and astringent properties. In addition, this ingredient also significantly improves your skin's moisture levels.
Vitis Vinifera (Grape) Fruit Extract: An antioxidant that has been shown to be 25 times more powerful than Vitamin C, and up to 50 times more powerful than Vitamin E, it also helps revive your skin's optimal energy level to support the more efficient delivery of multiple mechanisms that renew and restore your skin.
Morus Bombycis Root Extract: It contains natural arbutin which helps lighten dark spots and brighten your skin's overall tone and complexion. It also has strong antioxidant and photoprotective properties that help protect your skin from sun damage.
Scutellaria Baicalensis Root Extract: This ingredient has strong antioxidant properties. It helps block UV damage and simultaneously protects your skin from cellular damage caused by free radicals.
Malva Sylvestris (Mallow) Extract: This ingredient has strong anti-inflammatory properties. It soothes and calms irritated skin to help prevent damage from escalating into wrinkles and other visible signs of skin aging.
Mentha Piperita (Peppermint) Extract: This ingredient calms chronically irritated skin. In that way, it supports faster skin healing and repair functions.
Primula Veris (Primula) Extract: This ingredient has antibacterial and antiseptic properties that help clear your skin of infections and irritations, a function that can be especially useful for acne-challenged skin types. It also protects your skin from blemishes.
Alchemilla Vulgaris (Lady's Mantle) Extract: It helps relieve skin inflammation. It also has strong antioxidant properties that help revitalize your skin as well as protect it from damage caused by free radicals.
Veronica Officinalis (Speedwell Herb) Extract: It has natural anti-inflammatory properties that help relieve your skin or redness, swelling and irritation that can suffer your complexion. It also speeds up healing damaged skin.
Melissa Officinalis (Balm Mint) Extract: This ingredient has antibacterial properties that promote skin clarity. It also delivers a soothing and calming effect on skin inflammations, thereby preventing irreversible skin damage.
Achillea Millefollium (Yarrow) Extract: This product has strong antiseptic properties that help promote a clear and blemish-free skin. It also helps treat scarring caused by pimples and other skin conditions.
Benefits
This product promotes a brighter and livelier skin complexion.
It improves your skin's overall appearance and your general skin health as well.
It delivers strong anti-inflammatory functions that promote skin clarity.
It boosts your skin's protection with ingredients that deliver high amounts of antioxidants.
It enhances your skin's healing and repair functions.