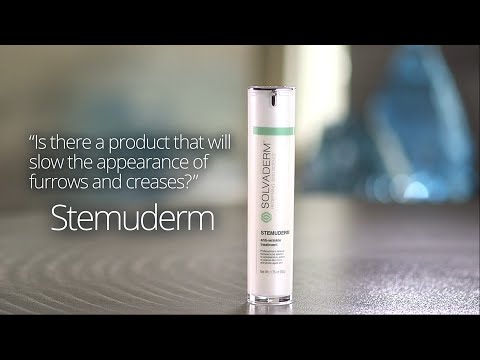 Revolutionizing
Cosmetic Dermatology
Discover Solvaderm's Professional Strength Products For Healthier And More Beautiful Skin.
About the product
Solvaderm Stemuderm is an anti-wrinkle cream that is formulated with a combination of wrinkle-correcting peptides and repair inducing apple stem cells. These ingredients help your skin recover faster and more effectively from damage that eventually develop into wrinkles, age spots, sagging skin, and other visible signs of skin aging. The infusion of natural oils replenishes your skin's lost moisture, while simultaneously increasing your antioxidant levels which makes your skin more resilient from future inflammation and damage.
Usage
Before using Stemuderm, gently, but thoroughly cleanse your skin. Improve product performance by toning to draw out more impurities and to condition your skin to receive treatment from Stemuderm. To apply, dot around your face, including neck and chest areas if desired. Spread evenly using upwards, circular motion.
Ingredients
Malus Domestica Fruit Cell Culture: This ingredient is made from the extract of a rare Swiss apple that has been clinically demonstrated to facilitate healing and repair on damages on the skin's matrix. The result is a more evened out skin texture and a noticeable decrease in the depth of wrinkles.
Acetyl Hexapeptide-8: This is an amino acid complex that inhibits muscle contractions which causes the skin on top of it to relax and stretch back. The result is less prominent wrinkles, delivering a more subtle effect compared to Botox.
Dipeptide Diaminobutyroyl Benzylamide Diacetate: This ingredient is better known as the proprietary ingredient, SYN-AKE, synthetically put together to resemble the numbing effects of the Temple Viper Snake. It numbs your facial muscles, causing your skin to stretch out and show less creasing.
Acetyl Glutamyl Heptapeptide-1: This peptide supports relaxing facial muscles by inhibiting messages sent to the brain, which causes muscle contractions. This function gives your wrinkles a less prominent appearance.
Palmitoyl Oligopeptide: This peptide improves the quality of collagen fibers and skin synthesis. By strengthening your skin, it gains better elasticity, improved firmness, and more resistant to future causes of damage.
Pentapeptide-3 & Palmitoyl Tetrapeptide-7 (Matrixyl 3000): These polypeptides enhance your skin's production of hyaluronic acid and elastin fibers. Increased availability of both natural skin ingredients causes your skin to become plumper and fuller, making wrinkles appear much less noticeable.
Jojoba Seed Oil: This ingredient acts as a carrier of this product's formulation, making it easier for the beneficial ingredients in Stemuderm to deeply penetrate your skin so that healing may immediately begin. This ingredient moisturizes your skin and leaves a better-conditioned surface.
Apricot Kernel Oil: It conditions your skin to show a more supple appearance. It also helps alleviate irritation and relieve inflammation.
Squalane: This ingredient is derived from olive oil. It works on softening and smoothening out your wrinkles by boosting your skin's moisture content.
Hyaluronic Acid: This ingredient resembles the natural hyaluronic acid produced by your skin. It benefits your skin by improving hydration levels and supporting the restoration of your skin's natural ability to powerfully hold and lock in moisture over longer periods of time.
Benefits
It smooths and softens the appearance of fine lines and wrinkles.
It facilitates the faster delivery of skin healing and repair mechanisms to correct damages on the skin matrix that causes wrinkles and fine lines to appear.
This product promotes improved skin elasticity, firmness, and tone.
It delivers plant stem cells that help revitalize your skin's cellular activity.
It reinforces your skin by improving the quality of skin fibers and the synthesis of the same to make your skin stronger and better protected from further damage.